Burden of Proof in New Jersey Matrimonial Law
Divorce Lawyers Handling Standards of Proof in Divorce Actions in Point Pleasant, Freehold, and Brick NJ
The divorce process is more than just a separation of property, custody issues, and spousal support. It is a procedure that determines a fair and balanced solution to the allegations on both sides. For that to occur, each spouse is required to put forth evidence to support their case. This is called the burden of proof, and it is typically the plaintiff's responsibility. When you are involved in a divorce case in New Jersey, it is important to begin to gather evidence with the help of your family law and divorce attorney as soon as possible.
What Is The Burden of Proof in a Divorce Case?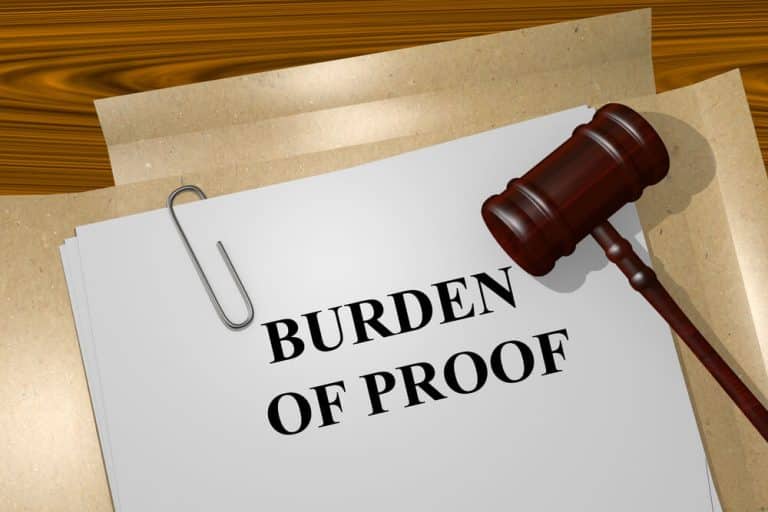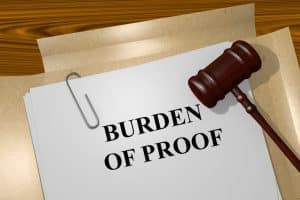 It is common knowledge that one cannot accuse someone in a court of law without supplying evidence to back up that accusation. It is the same in family law. The "burden of proof" in a divorce case requires the party proposing the allegation to prove to the judge that there is a 51% chance or more their allegation is valid. Known as a "preponderance of the evidence," the plaintiff must prove that what they are accusing the defendant of is true. In the case of criminal cases, the burden of proof is "beyond a reasonable doubt," which is much more challenging to prove.
The burden of proof is comprised of two parts. First, the plaintiff must put forth evidence such as witness testimony, documents, or objects that are called the burden of going forward. Then the defendant's burden is to refute the case presented by the plaintiff with their own evidence.
From time to time, a judge, especially when presiding over an issue regarding child custody, will set a higher standard of the burden of proof to "clear and convincing" evidence. Instead of allowing the evidence to be accurate more than half of the time, this different standard requires it to be substantially more likely than not. This standard of proof produces a result that convinces the proposed allegations are true. It is more than acknowledging that the possibilities outweigh any doubts; it is a construct of relative certainty. It is at a judge's discretion to choose the weight of proof necessary. Trials involving standards for visitation orders, one parent moving out of state, and grandparents' rights to custody or visitation are frequently determined using clear and convincing evidence.
The Burden of Proof May Determine the Outcome of Your Case in New Jersey
Put succinctly, claims in court must be proven. A judge will not make a determination on whether or not a spouse has absconded with the marital funds and gone on a three-day shopping spree on 5th Avenue without seeing proof such as receipts or bank statements. There is a lot of truth-bending regarding the distribution of assets in a divorce, and the only way to convince the court is with evidence. The person who has the burden of proof is the one who is making a specific claim about the other spouse. For example, if a spouse believes they should not pay support, they need to demonstrate why that is fair.
What Can Be Used as Proof in A Family Law Case?
In family court, many different forms of evidence that you present to support your side can be used. Emails and text messages, testimony, photos, videos, documents are all viable sources of proof. The most common examples of evidence are testimony and documentation. Testimonial evidence is spoken testimony either by the ex-spouse or witnesses.
There are several categories of evidentiary documents you need for your divorce proceedings. Some of the most common documents included are receipts, titles of vehicles and property, bank information, and other financial papers.  Many of them regard the household finances. The first category is income, such as tax forms, contracts, pay stubs, stock options, and commissions. Savings and investment documents such as pension statements, savings accounts, cryptocurrency accounts, stocks, bonds, 401K savings, and certificates of deposits are in the second category. Thirdly, property information such as mortgage statements, utility bills for all properties, insurance for vehicles and properties, deeds, personal property such as jewelry, art or antique appraisals, and property owned before marriage. Next, lifestyle documents such as credit card statements, any major bills, and monthly budgets. Finally, documentation about inheritance received by either spouse, living trusts, powers of attorney, health and life insurance, as well as wills for both spouses.
Evidence That Can't Be Used
Some items that one would think are perfect evidence are accepted only in part or not at all. Character evidence is a tricky kind of proof to use. If a friend says, "Kevin is a fantastic dad," they provide an opinion without any evidence whatsoever. Still, if the person's relationship to the spouse is clarified and the witnessed behavior is specified, it moves from character evidence to witness testimony. For example, Jane is a good friend of Pearl. She testifies, "Every time I was with Pearl and the kids, she showed great patience and affection."
Privileged evidence is what someone tells a therapist, doctor, lawyer, or religious leader; it is private and cannot be accessed. For example, if a spouse wants their ex's psychiatrist to reveal the date and contents of their first conversation about divorce, as much as I may help their case, it is inadmissible.
Hearsay is another form of evidence and is accepted only in particular cases. Your garden variety form of gossip is when one testifies what a third party did or said regarding their ex. For example, if Hannah is bowling with the league at Knob Hill and one of her teammates makes a comment about her ex and his new car unless Hannah has seen it with her own eyes, mentioning it as evidence is considered hearsay.
Contact our Family Law Firm for Help Meeting Your Burden of Proof in Toms River NJ
Getting divorced is much more complicated than one can imagine. A highly adept family lawyer can help you to obtain and organize all the proof you need for your divorce. From completing a detailed CIS form (Case Information Statement) to interviewing witnesses, your lawyer puts in many hours to allow you to focus on your work and family.
The Bronzino Law Firm serves clients in Jackson, Toms River, Point Pleasant, Manalapan, Ocean Township, and other towns in Ocean and Monmouth counties. Our firm is dedicated to supporting clients by listening to their concerns and explaining the steps that we can take to help, leaving those who work with us feeling confident and less stressed amidst the challenges they face in family law matters. Our lawyers are flexible and available, keeping you informed and involved every step of the way.
Are you considering getting a divorce? Do you know someone who is? Maybe you have started the process but aren't comfortable with your representation presently. Call Bronzino Law Firm at (732) 812-3102 or contact us online to schedule your free confidential consultation.