Drug Distribution in a School Zone Ocean County NJ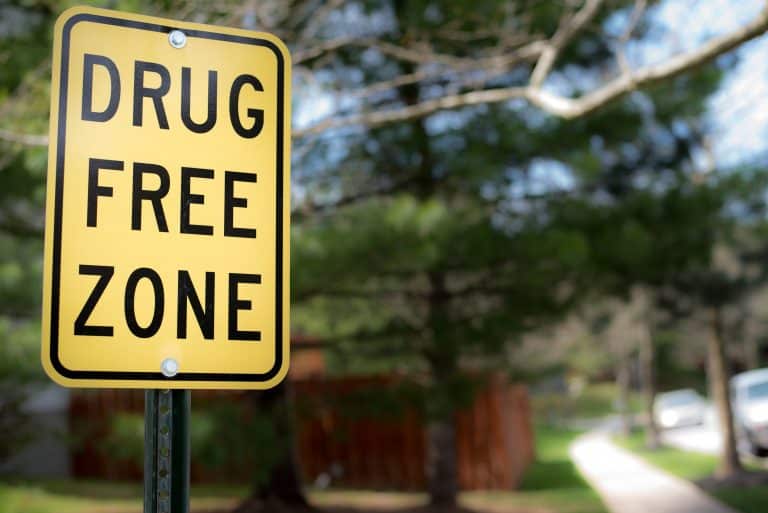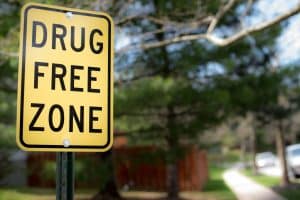 If you have been charged with drug distribution in a school zone, you could be subject to state prison, various fines and penalties, a loss of license, and a criminal record.  The attorneys at the Bronzino Law Firm have the experience necessary in courts across Monmouth and Ocean Counties. They are trained on what to look for in a school zone case and what defenses you may be able to assert.
In order to be charged with Distributing Drugs in a School Zoe, you must have been within 1000 feet of a school or school property and must have distributed some type of drugs.  The substance distributed has to be listed on one of the drug schedules and can include prescription drugs, marijuana, cocaine, methamphetamine, heroin and more.
In addition to this charge, you may be charged with possession of a controlled dangerous substance for the drugs that you allegedly sold, as well as possession with intent to distribute the drugs and/or possession of drugs in a motor vehicle. In most cases, the State will charge you with all three of the offenses even though there was only one course of conduct.  This means that the one act of distributing drugs subjects you to three indictable offenses (felonies) with three different potential state prison terms.
If you or someone you love are facing these serious charges, don't wait, call us today for a free and confidential consultation on your case.
N.J.S.A. 2C:35-7. Penalties for Distribution in a School Zone Brick NJ
Distributing, dispensing or possessing controlled dangerous substance or controlled substance analog on or within 1,000 feet of school property or bus
Anyone one who distributes, dispenses or possesses with intent to distribute a controlled dangerous substance or controlled substance analog while on any school property used for school purposes or within 1,000 feet of such school property or a school bus, may be found guilty of a third degree crime.  Third degree crimes carry a possible prison term of between three and five years.
There are serious sentencing consequences if convicted of distributing drugs in a school zone, which include state prison.  For instance, if the violation involves less than one ounce of marijuana, you may be sentenced to spend at least one-third and one-half of the sentence imposed, or one year, whichever is greater. You would be ineligible for parole for at least one year.  This means that you have to do on year in jail before the parole board considers releasing you.
The most serious distribution in school zone charges involve more severe sentences. Anything other than marijuana can subject you to a jail term between one third and one half of the term imposed or 3 years (whichever is greater).  For example, if it is proven that you sold cocaine in a school zone, you may have to do three years in jail before you can be released. In addition to jail, you can be forced to pay a fine of up to $150,000.  The Judge has the authority to impose any fine he or she deems fit up to $150,000.
Exceptions to Penalties Associated with Selling Drugs in a Monmouth County School Zone
There are exceptions to the above jail time.  Our attorneys have successfully assisted people in avoiding jail. We have presented certain factors to the judge to allow for the person to receive regular probation instead of jail.  Some factors that the court may consider are:
-the extent of the defendant's prior criminal record;
– the specific location of the present offense in relation to the school;
-whether school was in session at the time of the offense and if children were present or in the area;
However, if the court finds that the offense took place on school property or that that violence was threatened or a firearm was present, the court will not reduce the sentence.
Maps proving that the location was in a school zone
The state will prove that the location was within a school zone by producing a map that has been generated by an engineer of the municipality in which the school is located.
Contact our Toms River Drug Crimes Attorney to Protect Your Rights
It is not a defense that a person did not know that he or she was in a school zone.  However, it is a defense that the distribution took place inside a private residence, that no children under 17 were present, and that the distribution was not for profit.
The attorneys at Bronzino Law Firm will review the police reports, maps, statements, lab reports, videos, marked money, and any surveillance to evaluate the level of proofs in the case and assist in fighting your case.
You do not have to plead to distribution and may be able to have the charges reduced to simple possession instead of distribution.
If you have been charged with a Distribution in a School Zone, contact our office to speak with an attorney who can help with your case. There are number of ways we can be of assistance from reviewing a case for potential motions, defenses, or pleas to other charges that do not involve jail time.   Call our office today for a free consultation (732) 812-3102.