Experienced Alternative Dispute Resolution Attorneys Providing Counsel in Monmouth and Ocean County, NJ
Alternative Dispute Resolution (ADR) is a method of resolving problems without using the court system.
Successful use of ADR avoids the need for often costly and lengthy legal battles. It presents opportunities for the opposing sides to decide on a more amicable environment of collaboration and compromise.
When is ADR appropriate?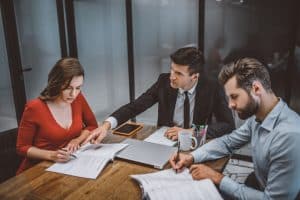 ADR best serves individuals who are willing to communicate with each other and attempt to work out their dispute with the help of a trained neutral. It is useful in a wide range of conflicts, including commercial disputes, professional liability cases, personal injury claims, insurance coverage disputes, employment law cases, and divorce. However, ADR is not an option in cases of domestic violence, child abuse, or criminal cases.
Mediation
Mediation is a process in which an impartial third-party facilitates negotiations between the litigants. The goal of mediation is to help them reach a mutually acceptable settlement. The mediator does not make the decision that determines the outcome of the case. Rather, the parties – with the assistance of their attorneys – work with a mediator toward a solution with which they are comfortable.
Mediation is often used to amicably resolve disputes between parties with an ongoing business or personal relationship or have had a significant past relationship, where communication problems exist between the parties, but where the principal barriers to settlement are personal or emotional. It allows for a more collaborative, creative road to problem resolution. Certain types of cases, which lend themselves to mediation, include commercial disputes, labor & employment matters, construction litigation disputes, product liability matters, environmental matters, certain general equity and probate cases, and divorce proceedings.
What are the advantages of mediation?
Parties have complete control over the settlement.
Less stress as compared to litigation and arbitration.
The relationship between the parties isn't overly damaged.
Mediation proceedings are confidential.
The process resolves the dispute quickly.
Arbitration
Arbitration is a process by which a neutral third-party or panel considers the evidence presented by the parties and makes a decision that may be binding or non-binding, according to statute, rule, or the parties' prior agreement. It is often successful in resolving commercial disputes and personal injury matters and negotiating labor & employment disagreements.
Most arbitrations arise because of an arbitration clause in a contract, in which the parties have agreed to resolve any disputes arising out of the contract through arbitration. Before discussing what an arbitration looks like, it helps to understand what an arbitration clause can include. Arbitration clauses can be simple — stating that claims will be settled according to applicable arbitration rules and then enforced by a local court.
But arbitration clauses can also be more complex with multiple issues such as how arbitrators will be selected, where the arbitration will be held, who will pay for attorneys' fees, and whether the final arbitration award must be kept confidential. Arbitration clauses can be mandatory or voluntary, and the arbitrator's decision may be binding or nonbinding.
What is the difference between mandatory and voluntary arbitration?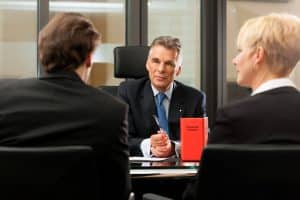 An arbitration clause in a contract may make the arbitration either mandatory or voluntary. A dispute that is subject to mandatory arbitration must go through arbitration before any litigation can take place.
In voluntary arbitration, both sides in a dispute agree to submit their disagreement after evaluating other options for resolving it. Most consumer advocates find this to be the preferred approach to arbitration because it is chosen rather than obligated.
How do binding and non-binding arbitration affect the result?
In binding arbitration, the arbitrator's decision is final. It may not be reviewed or overturned by a court except in very limited or extreme circumstances, such as in cases of fraudulent claims.
In nonbinding arbitration, either party may reject the arbitration award and demand a trial instead. Frequently, non-binding decisions are treated as an independent assessment of a potential lawsuit's strengths and weaknesses. However, the decision may become binding if the parties agree to it and/or wait past the stated deadline to return to court.
What are the advantages of arbitration?
Flexibility– Arbitration proceedings are flexible and more economically feasible compared to litigation.
Time-Consuming– Arbitration proceedings occur at an expeditious rate compared to Litigation; therefore, it saves time for both parties.
Confidentiality– The disputes which are subject to arbitration are not released to the public.
Arbitrator– The parties have the liberty to choose an arbitrator to handle their dispute.
Enforceability– Arbitration awards are generally easier to enforce as compared to court verdicts.
Negotiation
Negotiation is when two parties in a conflict or dispute reach a settlement between themselves that they can both agree on. Negotiations are reached through discussions made between the parties or their representatives without the third party's involvement. Each party should consult or see a lawyer before settling down the matter to be aware of their rights and duties concerning the matter or dispute they are willing to solve.
What is the next step?
We are skilled, experienced trial lawyers who are ready to take your case to trial if the other party is unwilling to take a fair settlement. Frequently, we achieve outstanding results without the risks and expenses of litigation.  We focus on improving our client's negotiating position and gather as much data as necessary to allow our client to make an informed decision about settlements or counteroffers.
Contact A Brick, NJ Divorce Lawyer Today
At Peter Bronzino Law Firm, our attorneys are focused on providing constructive and effective legal solutions for clients across New Jersey and Ocean County, including Point Pleasant, Toms River, Spring Lake, Sea Girt, Jackson, Wall, and Brick.
Our unique approach to family law centers around creating family life plans out of family law problems. We understand just how important financial stability is to you and your children, and we are prepared to help you modify or enforce your divorce orders to reflect this importance. By listening carefully to all of your needs and concerns and keeping you highly informed and involved throughout the legal process, we believe we can work together to achieve the results you need in your unique legal situation.
To schedule a confidential case assessment with our firm today, please contact us online or through our Ocean and Monmouth, NJ offices at (732) 812-3102.