PRENUPTIAL AGREEMENT ATTORNEY Jackson, NJ
Serving Clients in Ocean and Monmouth County Towns including Wall, Asbury Park, Toms River, Point Pleasant, Brick, Sea Girt, Spring Lake, Jackson, Neptune, Manasquan, and the Surrounding Communities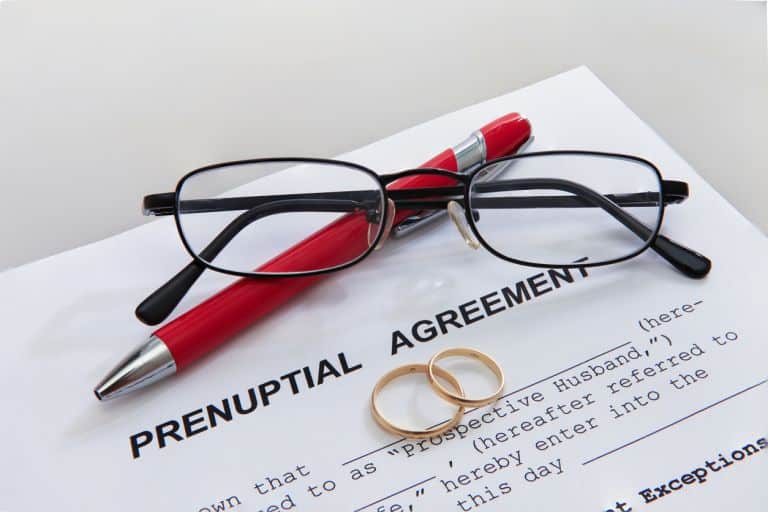 There is a persistent myth that prenuptial agreements are only for extremely wealthy people. In reality however, prenuptial agreements are designed for proactive people, people who understand that a small amount of effort expended now has the potential to save a great deal of time, money, and heartache in the future, no matter how unlikely that future may seem. Anyone going into a marriage with some amount of assets can benefit from planning ahead. Ideally, a prenuptial agreement is never put to use, but in the event the unexpected occurs, a prenuptial agreement will not only make the divorce faster and less expensive, it will make it much less painful.
Most of the heated disputes in a divorce are related to property and asset division, and having a prenuptial agreement which was carefully crafted by an experienced Ocean County prenuptial agreement attorney can prevent some of the most contentious aspects of any divorce, and save both parties time, money, and stress.
At Bronzino Law Firm, we have helped many clients across the greater Ocean and Monmouth County area to draft fair and effective prenuptial agreements. We help our clients to understand that a having a prenuptial agreement does not mean either party will eventually want a divorce, merely that it is a prudent and smart step for any couple to take.
Call our Brick office or our Sea Girt office today at (732) 812-3102 to discuss your unique needs and concerns when it comes to drafting, modifying, contesting, or validating a prenuptial agreement in a free and confidential consultation with our legal team.
What to Include in a Prenuptial Agreement in Monmouth County
Prenuptial agreements are designed to primarily protect the assets and property of the parties entering into the agreement. Issues such as child custody and child support are determined by the courts based on the best interests of the child, and as such are not something a prenuptial agreement will decide.
On the other hand, some of the most commonly addressed issues in prenuptial agreements are:
Both spouse's rights and obligations to joint and separate property, both prior to the marriage and during the course of the marriage
The rights of each spouse to buy, sell, use, transfer, exchange, abandon, lease, assign, dispose of, or manage the assets and property of the parties and the marriage
How property will be divided in the event of separation, divorce, death, or any other specific circumstance the couple wishes to address
How alimony and spousal support will be decided in the event of divorce
The ownership and handling of a life insurance policy in the event of a death
Any other matter the couple wishes to address concerning personal rights and obligations, as long as the provision is not against public policy
Soon-to-be married couples are also starting to include very modern concepts within their prenuptial agreement such as intellectual property ownership, student loans, social media, pet ownership, and terms for stay-at-home parenting. Read our "Modern Prenuptial Agreement" blog for more information on this topic.
The most important thing to decide when drafting an Ocean County prenuptial agreement is exactly what issues you and your spouse would like to address. As you can see, prenuptial agreements can cover a wide variety of circumstances, personal rights and obligations, and property issues. By discussing your exact needs and concerns with your prenuptial agreement attorney, your attorney can help you to draft a prenuptial agreement which covers all of the eventualities important to you, while saving you time by not deciding issues which are of little importance to you and your spouse.
Ensuring a Valid and Legal Ocean County Prenuptial Agreement
New Jersey's 1988 version of The Uniform Premarital Agreement Act (UPAA) specifies how prenuptial agreements must be drafted and handled in order to be considered valid and binding. According to the UPAA, prenuptial agreements must be in writing, and signed by both spouses. Both spouses must also fully disclose all relevant financial information, and attach these disclosures to the prenuptial agreement.
Although not legally required, it is highly recommended that both parties consult with an Ocean County prenuptial agreement attorney before signing the agreement. If one spouse does not retain legal representation during this process, they must sign a statement stating that they freely, knowingly, and voluntarily waived their right to legal representation for the drafting and signing of their prenuptial agreement.
Prenuptial agreements can be modified or revoked after the initial draft, but only after a written agreement signed by both spouses is submitted to this effect.
Challenging a Prenuptial Agreement Attorney Spring Lake, NJ
While generally legally binding, there are certain circumstances where an individual can contest the validity of an existing prenuptial agreement. Together with a Spring Lake prenuptial agreement lawyer, in order to void a prenuptial agreement they must be able to prove to the courts that either:
They executed the prenuptial agreement involuntarily (they were coerced into signing it)
The agreement was unconscionable (no reasonable person would sign such an agreement)
They were not provided with a full and fair disclosure of financial information such as earnings, property, assets, and debts of the other spouse prior to signing the prenuptial agreement
Before signing the agreement, they did not consult with legal counsel nor expressly waive this right in writing.
If any of the above circumstances are true, you and your Spring Lake prenuptial agreement attorney can petition the courts to nullify the prenuptial agreement in question, but must be able to definitively prove that the circumstance(s) you are citing are true.
Contact a Wall Prenuptial Agreement Lawyer Today
At Bronzino Law Firm, we have helped many clients to draft prenuptial agreements which protect the assets, property, and interests of both parties in the event of a divorce in towns across Ocean and Monmouth County, including Jackson, Wall, Asbury Park, Spring Lake, Toms River, Point Pleasant, Neptune, Sea Girt, and the surrounding communities.
A well thought-out and drafted prenuptial agreement is a prudent and smart measure for any couple to take when entering into a marriage, no matter how many assets are involved.
Attorney Peter J. Bronzino strongly believes in providing personal and attentive legal representation to all of his clients, and understands that the more involved his clients are in the legal process, the better he can protect and secure their legal and financial future in any legal matter, including prenuptial agreements.
Whether you wish to draft a prenuptial agreement, modify an existing prenuptial agreement, or contest the validity of a signed prenuptial agreement, our firm is ready to help you today. To schedule a free and confidential consultation regarding your unique prenuptial agreement concerns and issues, please contact us online or through our Brick, NJ office at (732) 812-3102.