Telling your Children About Your Separation or Divorce in New Jersey
Serving clients in Brick, Sea Girt, Toms River, Wall, Point Pleasant, and across Ocean and Monmouth Counties.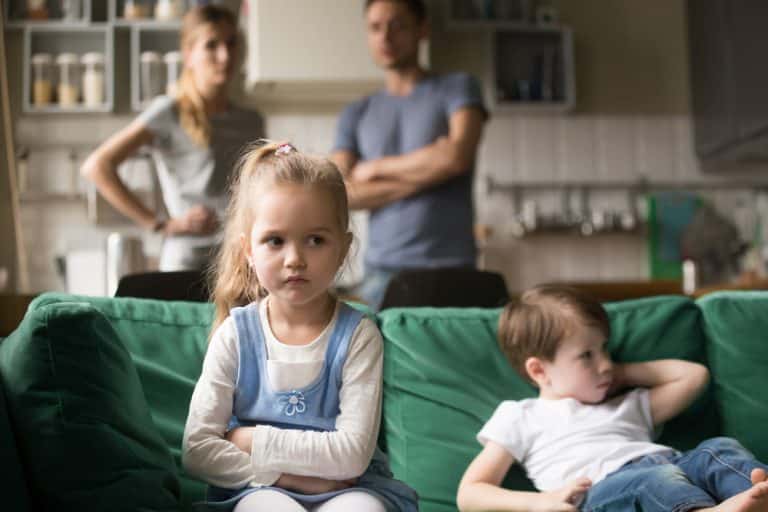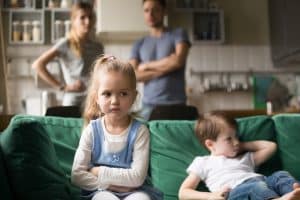 It is likely the most difficult discussion you may ever have as a parent: breaking the news to your kid(s) simply that you and your spouse are getting a divorce. So how do you clarify the separation to your children? The one thing that is vital for parents to know is that you just have to explain the circumstances in a way that is as simple and calm as possible. You will see your soon-to-be-ex in a distinctive light, but your child does not. Your kids are still seeing you as mom and dad and you wish to ensure those relationships. Reassuring your children is key when telling them you are separating.
Where Do We Start?
Tell them around 2-3 weeks preceding any major changes such as someone moving out. Have an arrangement – in any event the essentials – before you advise them.
Meet with your children and your spouse to project a united front.  As difficult as it may be, due to the severed relationship with your spouse, keep your temper in check and be civil to one another.  Bitter tones, insults, and blaming will only make it more difficult for your children to digest what is happening.  Now is not the time to air grievances or discuss adult issues.
Converse with them in a tranquil space when nothing is planned later on such as a baseball game or a birthday party.  Pressuring them to act as if nothing were wrong is unwise at best. Weekends are ideal to be available for them; maybe take a walk in the park or watch a movie on the couch, something that gives the children a sense of normalcy. Allow plenty of time so that you are going to be able to cope with the possible immediate reactions and remember to be readily available at all times for delayed reactions.
Tell their teachers the day preceding you are telling the children, to set up the instructors for an expected resentful attitude or misbehavior. Request that educators be delicate, and circumspect with the family situation and only mention it if your child does so first.
What Should We Say?
When parents talk to the children, there are a few really important messages to repeat over and over again both during the conversation and in the months following:
This is something mom and dad have decided after a long time of trying to make things work better.
This is an adult decision and has NOTHING to do with anything the children did or said.
Help the children understand they also cannot control this decision to separate/divorce by behaving "extra nicely".
They are free to continue loving each parent without fear of betraying the other or being seen as disloyal.
Everyone will feel sad, angry, frightened, worried, and even curious about the future, all of which are normal and they are welcome to ask questions or express their feelings at any time.
Most of all, assure them that you are still a family, just a different one than before.
Honesty Is Key, But Be Careful
Be honest with your children and don't retract if they cry. It is likely to cause more pain later on because you set up false expectations that cannot be met and it only prolongs the hurt. It is important to be reassuring without making unrealistic promises – this is a very difficult task for parents, we never want to feel that we have deliberately upset our children. Think about what your child or children are able to understand at this stage too. They are not adults, and their perceptions and understanding are at a different stage from your own. Your children do not need to hear from either of you the faults of the other – remember, you are the people they love and are closest to in their whole world – that won't change for them even if it has for you.
What Is Next?
If future arrangements have been determined let them know what they are. Probable timing of events can be helpful for older children, but do not overwhelm them with too much information at first, only what you judge they can take in initially. Think about the age of each child and your own close knowledge of their level of understanding and be guided by that. Tell them if you wish that you are coming to see people work out what is best for all of you, and you will tell them as soon as you know anything if this is appropriate. Be specific but do not over-explain. Try not to involve them in the solution or decision making unless they are old enough – and even then, be aware that many children still prefer for their parents to be the people who decide what is best for them.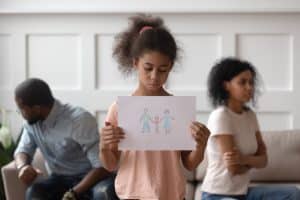 Children want to know that the other parent is going to be OK.  A visit to the new apartment, the room where they will stay (assuming custody is shared) and a parent already has found a place, it is good to tell children where it is and bring them over to see it within a few days. Tell them the basic plan; that they will see both parents every week, that they will see both parents every weekend – basic reassurance that they will be with Dad sometimes and with Mom sometimes, and (ideally) you will be all together sometimes for things like soccer games and celebrations (some celebrations –but don't promise anything you cannot deliver.)
It Is an Ongoing Process
Divorce is hard on the entire family and working through change requires time and effort.  Keep the lines of communication open with your children.  Do not speak ill of your ex, your children want to love you both equally.  It is up to you to be the adults and set the example. Coparenting is challenging and nearly impossible to do well if the adults are constantly belittling one another.  Your children will have questions- a lot of them.  As the panorama changes and you two as a couple move on with your lives, you are obligated to keep your children's best interests at heart.
Contact our Divorce Lawyers for a Free Consultation
If you are separated or considering a divorce, our law firm has the skills and experience to guide you through what is often a harrowing process.
At the Bronzino Law Firm,  we take pride in successfully representing clients in Brick, Sea Girt, Toms River, Wall, Point Pleasant, and across Ocean and Monmouth Counties. Whether you are considering filing for divorce or have begun the process already, you need a knowledgeable representative who will listen to your unique concerns.
Contact us online or at our Brick or our Sea Girt offices by calling (732) 812-3102 today for a free and confidential consultation to discuss your individual needs and concerns.