Child Custody Complications Due to Overseas Deployment
NJ Service Members Seeking to Protect Their Rights in Custody and Parenting Time Situations while on Military Duty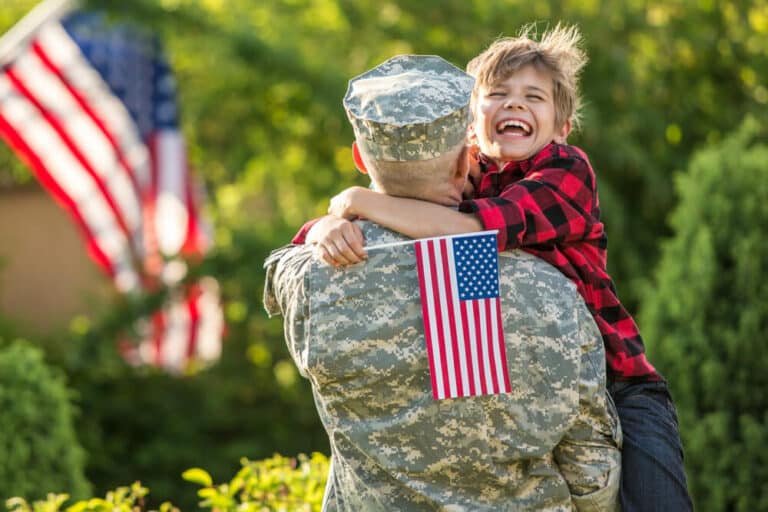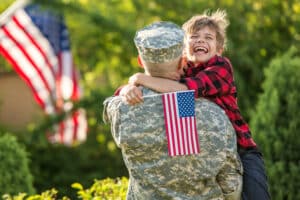 Deployment over the past decade has increased, and so have custody issues involving military parents. When a military parent is concerned, there are more complications due to overseas deployment or stateside assignments.  To protect our nation's heroes in this area of their life, New Jersey signed into law protections that work in hand with federal laws like the Servicemembers Civil Relief Act.
Learn About the Servicemembers Civil Relief Act
The Servicemembers Civil Relief Act (SCRA) is a federal law meant to protect service members who drop their affairs to answer their country's call. It provides an expansive range of protections to service members. These include special treatment in child custody cases.
Courts cannot use deployments to deny a service member's custody rights.  Our servicemen and women risk their lives to serve our country, and they should be able to do so without fear of experiencing custody issues of their child as a result. Therefore, the SCRA provides that deployment cannot be used by courts to deny a parent right to custody of their child.
Since the deployment of a parent undoubtedly impacts their child and typically calls for a rearranging of the child's care and schedule, service members are required to give the other parent as much notice as possible of their deployment. However, while deployments have an impact on the entire family, it would also not be in the interests of justice to hold past, current, or potential future deployments against a service member when considering the "best interest of the child" in custody proceedings. It is, of course, true that even the children of deployed military members who are married to the child's other parent experience a significant shift in their routine and relationship with their deployed parent.
Dealing with a Custody Hearing While Deployed
Preparing for a deployment is full of stress and endless tasks. Then, once a military member is deployed, they are typically in an even more stressful and demanding environment. Adding to their plate, the stress of a child custody hearing while deployed could not only jeopardize the service member's custody arrangement and parenting time, but it could even cause a life-threatening distraction while deployed.  To protect their legal interests and create flexibility in these scenarios, service member parents can request that their custody hearing be expedited to take place before they leave on deployment.
The stress of a deployment does not end when a service member returns home. Even for families that all live together in the same home, there is often a transition phase to get back into a regular routine and reestablish relationships when the service member returns from deployment.  During the 9o days following a service member returns home from deployment, the court cannot make a child custody order permanent within a 90 day period after a service member returns from deployment. The wait time also applies to changing custody and parenting time orders permanently.
New Jersey law also prohibits the parent who is at home from using the military member-parent's absence due to active duty service against them to modify parenting time or custody. Custody orders can be changed temporarily while a parent is deployed within certain limitations, but the changes expire when the parent returns from deployment and must allow for custody when the deployed parent is home on leave.
Complications of Deployment in Child Custody Cases
When a parent has deployed, some issues may arise around where the child lives. Perhaps a temporary custody order allows the non-deployed parent to live outside the state of New Jersey for one year. In theory, if the deployed parent stays away for six months, the other parent can move the case away from New Jersey and into another state. Although New Jersey law keeps jurisdiction over the case, the temporary move can still lead to complicated issues between states. It's best to have a written agreement with the other parent about where the child's permanent home is while one parent is deployed. That way, you won't end up in a battle about which state has jurisdiction.
While a court will pause a custody case if a parent is deployed, the military parent still has to comply with specific requirements. Under the SCRA, a judge cannot enter a default judgment against a service member. A court can stay the proceeding in 90-day increments. However, additional stays require a service member to provide a statement about how the duty affects their ability to appear.
New Jersey courts often grant permission for the service members overseas to appear by phone. However, there may be reasons why a service member cannot divert their attention while deployed to care for their custody case. In those instances, courts will delay the proceedings until the service member is available. However, the non-deployed parent may still be able to get a court order for temporary child support in the interim waiting period.
Understanding Child Custody Law in a Military Context in New Jersey
New Jersey state laws govern parenting orders, even in military divorce and child custody cases. New Jersey courts always look to the "best interests" of the child. Although there isn't any one factor in deciding what is in the child's best interest, the courts will generally favor frequent and continuing contact with both parents. Therefore, when military parents advocate for custody orders and visitation, it's essential to keep those standards at the forefront. 
Get a Brick NJ Family Lawyer's Counsel for Your Child Custody Case while one Parent is on Active Duty
Custody and parenting time arrangements in any situation can be challenging. It's even more prevalent when parents are in service to our country. While the federal and state governments provide protections, it's still necessary to reach out to a family attorney who can help provide the flexibility needed for parents in active service.
At The Bronzino Law Firm, our team of family lawyers is grateful for your service to our nation and would be honored to help you navigate through these important family issues. If you are facing the prospect of deploying with children, you are on active duty, or you need help to address child custody issues while you or your child's other parent are in the military, contact our offices in Brick and Sea Girt today for a free consultation. We assist military members and their families with child custody, child support, divorce, and other family law matters in Eatontown, Tinton Falls, Oceanport, Lakehurst, Colts Neck, Toms River, Jackson, Berkeley, Lacey, Wall, Lavallette, and other communities in Monmouth and Ocean County. Let us help you in the way we can by contacting us today online or by calling (732) 812-3102  to schedule or immediately receive an initial and free-of-cost consultation.