Seek the counsel of an Experienced Attorney to File a Restraining Order
Domestic violence is a severe issue in New Jersey and around the country.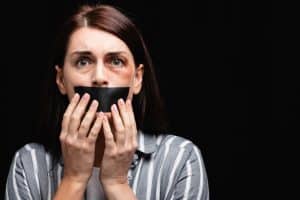 Particularly in this time of the pandemic, domestic abuse cases have gone up, as couples have been forced into long periods of quarantine together, and job losses have led one partner to take their frustration and fear out on their significant other.
If you are in an abusive partnership, there are ways to get support for a transition out of the relationship. The primary tool is a temporary restraining order. Read on to learn more about obtaining a temporary restraining order (TRO), where to turn for immediate help, and how to formulate an exit plan.
How to Obtain a Temporary Restraining Order (TRO) in NJ 
In New Jersey, a Temporary Restraining Order is the most important piece of legal documentation that a victim of domestic violence can have. This is because it provides physical space, which is the most fundamental necessity in a dynamic of domestic abuse: the safe container within which emotional healing work and transition forward can occur. With a TRO, the abuser is legally not allowed to communicate with or contact you. They are barred from making physical or technological contact with you in any way.
Because of the COVID-19 pandemic, the New Jersey court system has reduced hours and caseloads. However, given the severity of the issue, most courts are open to receiving in-person applications for TROs. Contact your county's courthouse to state that you need to file for a TRO and receive information regarding next steps. You can file a TRO in the county in which you live, the county in which the defendant lives, the county in which any act of domestic violence has taken place, or the county in which you will be relocating to seek safety. Alternatively, if you cannot go to the courthouse physically, you can file for a TRO with the New Jersey Superior Court: Family Part by calling the court during business hours.
As we know, cases of domestic violence that initiate the need for a TRO don't always occur while the court is open to receive a request for a restraining order. As such, you can go directly to your local police department or call them to file a request for a TRO 24/7 as well. In this case, a police officer fills out the application for a TRO. At the same time, an on-call municipal court judge is called into a video or phone conference to issue the TRO immediately.
Domestic Violence Supports in New Jersey
Sometimes the most difficult step to exiting an abusive relationship is asking for help. There is no reason to be ashamed if you are a victim of domestic violence. Contact one of the myriad supports that are available to provide you resources and guidance in your safe transition out of the shared space and the relationship:
In New Jersey:
NJ Domestic Violence Hotline: 1 (800) 572-SAFE (7233)
Nationwide:
National Domestic Violence Hotline: 1(800) 799-7233
Preparing an Exit Plan
When you call a domestic violence hotline, a trained counselor will take your call and provide invaluable information regarding initial steps to take to transition out of an abusive domestic situation, focusing on your safety and covering many bases such as:
how to financially prepare for an exit from a domestic partnership;
what to pack in an emergency overnight bag, including important documents;
how to safely and subtly prepare children for a transition;
how to ensure that pets are safely transitioned out of the home;
what phone numbers to have in your cell phone at the ready;
how to let one confidant know your plans so that you are supported by someone knowing your intentions,
and what information and documentation to provide them with.
A domestic violence counselor will advise you that, if you have children, it is important not to tell them outright that you are planning to leave home and take them out of it. Instead, you can prepare them for what to do in the case of an emergency, including practicing with them where to go, what their full name and address are (if they are young), and who to call. Because of the complex emotional life of a child and their bond with both parents, speaking only generally with them regarding local contacts in the case of an emergency is essential.
To ensure that you navigate your exit from an unsafe living situation, you must seek the support of a qualified Domestic Violence attorney.
If you have filed a TRO, need to obtain a restraining order, are seeking to leave an abusive relationship and use the law to guarantee your protection, and/or are moving toward divorce, we are on your side.
Attorney Peter J. Bronzino and our firm has a depth of experience representing individuals in divorce, family law, and domestic violence situations in Brick, Sea Girt, Toms River, Wall, Point Pleasant, and across Ocean and Monmouth Counties.
Contact us online or at our Brick, NJ office today at (732) 812-3102 to schedule a free and confidential consultation to discuss your individual restraining order matter or family law concerns.