Building Bridges between Parents & Parents and Children
Family Reunification Therapy is a Court-Ordered Intervention That Demands Family Members' Commitment.

Divorce can put a family on its head, especially when it comes to children. Frequently the non-custodial parent feels excluded as the children don't want to visit or stay with them according to the family plan. There is typically an impression by the children that the other parent is the reason for the divorce, or the children are not interested in seeing the non-custodial parent because they are resentful of the lack of time that has been spent with the non-custodial parent since the divorce. High conflict custody and divorce cases also pose a potential long-term challenge for an amicable family life functioning after the divorce has been finalized.
The Reunification Therapy Method in New Jersey
Reunification Therapy is a method used by a counselor to hold sessions with the children and both or one parent to build a bridge from the parent to the children and to facilitate cooperation among the parents as well. The counselor typically encourages all family members to receive individual therapy to process the group sessions. Group sessions should be light as they include the children. Role-play, games, association activities, and more are based on the children's ages and comfort levels.
Programs could be long-term or short-term, and they are based partially on the family's willingness to assimilate their unification as a whole. It is tough to find success when one or more family members are resistant to the process. Sometimes reunification therapy is court-ordered in family law matters, and some sessions require extended family participation, especially when an extended family member takes care of the children in a babysitting role.
The Reunification Therapy Process Main Goal
The goal of reunification theory is to bring the family together. It is a series of sessions where the parents encourage each other and the children to have positive relationships. Divorce can place a wedge between a mother or father and a child. Frequently, children blame one parent for the divorce and demonstrate hostility toward that parent. Also, sometimes dangerous circumstances are in one or both homes, such as illegal substances, mood-altering substances, unsafe visitors, or domestic violence. This provides the children with a platform to express their concerns regarding those matters.
Getting Ready For Your Reunification Therapy
The therapist will meet with each parent separately while discussing family plans, court orders, visitation, and parameters regarding screen time, junk food, and sports. The goal here is to get the parents on the same page and demonstrate a united front. It may not be easy, but it can help create a solid relationship. Frequently, the therapist will bring in specialists to help with the heavy psychological lifting. Sometimes the custodial parent is less than supportive but is supportive if the process shows progress. The beginning sessions will build trust between all of the family members. The children may negatively perceive a parent who has cheated as slick or untrustworthy, and therapy can possibly change that vision.
Therapist Role in Reunification Therapy Sessions
The therapist has to set up a plan and begin by working with the parents. All decisions are made for the family's greater good as a neutral party. The therapist does not support the side of another parent. Their role is to offer sympathy to all family members and teach them a new way to treat one another. Time management of the sessions is up to the therapist. This could mean determining the length of each session and the participants for specific sessions. The therapist teaches the family how to express themselves and respond to other people's negative emotions such as fear, anger, or frustration and processes them into manageable pieces. Parents are taught to react less and listen more. It is about building relationships and having the tools to maintain them, thereby creating a healthy family unit.
Besides the therapeutic section, the therapist will report to the court each family member's progress (or lack thereof) and any refusal to cooperate or positive breakthroughs.
Expected Outcome of Reunification Therapy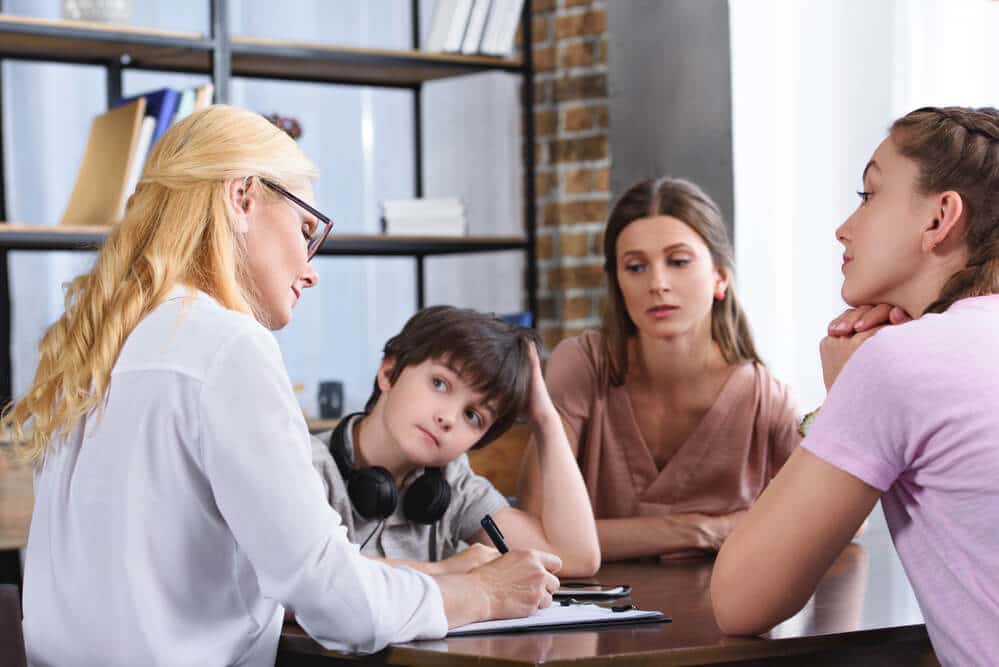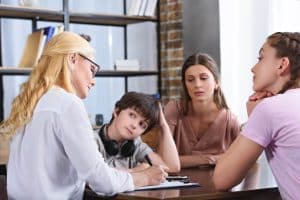 Therapy results are different from one family to the next because the needs, emotions, expectations, and history are as unique as the family itself.
So what do successful results look like? Children have an open, honest, respectful relationship with both parents. They can express frustrations, joy, fear, academic concerns, insecurities, and even constructive criticism to the parents in a respectful manner where they are heard, and their message is received with maturity and an open mind.
Parents can express their concerns to one another and their children, keeping topics age-appropriate. Parents do not accuse each other of manipulating the children into favoring one over the other while supporting one another to follow the parenting plan. They avoid arguing, gaslighting, and alienating the other ex-spouse.
Results are fluid and can take weeks or months. Some families put up little resistance, while others have difficulty processing the necessary exercises. 20% of families that the court mandates are unsuccessful. The exact number of sessions or their length cannot be known because it varies based on the family's enthusiasm, cooperation, and participation.
Questions about Reunification Therapy in Your Family Law Matter? Contact our Law Offices in Brick and Sea Girt NJ
The conflict between parents and children can set a harsh environment. Navigating the legal challenges associated with custody and divorce-related issues can add an additional burden to an already stressful experience. If you are facing the uncharted waters of the legal process in a family law matter, Bronzino Law Firm is a law practice with a focus on our clients. Our family lawyers are skilled in custody law and can help you resolve your unique legal challenges, address your needs, and answer your questions about family reunification therapy's role in your case in Ocean Township, Toms River, Sea Bright, Lacey, Berkeley Township, Point Pleasant, Rumson, Wall, Mantoloking, Lakewood, Colts Neck, and other towns in Ocean and Monmouth Counties.
Call (732) 812-3102 for a free consultation or to schedule an appointment at our local office nearest you. We look forward to discussing your case, your family's goals, and how best to create your future with your children.