Considerations for a Long-Distance Custody Plan in NJ
To Maintain a Strong Bond with Their Children, Parents Must Take a Number of Aspects into Account While Devising a Long-Distance Custody Arrangement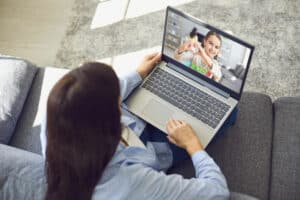 When your child was young, you may have lived in the same city as your child's other parent. But after the breakup, you might have moved away to get a fresh start, or the other parent moved for a new job opportunity. Now, years later, your carefully considered custody plan is not working out for you because it did not account for long-distance situations where your spouse lives in another city, state, or even country. However, custody plans are subject to modification and can adjust to better fit the needs of your family. A knowledgeable family and custody lawyer at Bronzino Law Firm can help explain your options. We assist clients with devising and modifying long-distance custody arrangements in Howell, Holmdel, Brick, Toms River, Asbury Park, Point Pleasant, and nearby and throughout Ocean and Monmouth Counties communities. Call (732) 812-3102  or send us a message to speak with an attorney regarding your unique custody situation today.
Provisions to Include Long-Distance Custody Plans in NJ
A long-distance custody plan applies to parents who live hours away from each other. Parents may live in different cities, counties, or states. Often, one parent has primary physical custody, and the other parent has visitation. However, there are some instances when the parents may have joint physical custody despite the distance. Long-distance provisions may be included in part of your formal custody agreement or even an informal agreement you have with your co-parent. By planning ahead, you can avoid possible conflict.
Practical Elements to Consider in a Long-Distance Custody Plan
Long-distance custody plans often involve much more detail than plans for parents who live nearby. Some things to think about when creating long-distance custody plans include:
School Calendar
If your child is school-age, you will want to carefully review their school calendar so that visitation does not interfere with it. The school calendar may also help show where there are pockets of time when visitation can be scheduled, such as spring or winter break.
Holidays
You may want to create detailed provisions regarding holidays. You might alter holidays each year, especially for holidays that are most important to you.
Your Child's Age
As your child ages, their needs may change. You may need to consider whether airline travel is appropriate for your child and when. Also, as they get older, their social circle may be more important and impact how they feel about leaving their home base.
Work and Childcare
The out-of-state parent may still have work obligations when your child visits. Who will care for your child during those times?
Extracurricular Activities
You might also want to consider how your visits with your child may be impacted by extracurricular activities.
Travel Expenses
Travel can be expensive. How will you divide travel expenses? Will the parent who lives further away pay for airline tickets? Will you alternate? Will you each be responsible for returning the child after visits, and you pay for only the expenses you incur due to travel?
In-City Visits
If the out-of-city parent visits your child in their hometown, are there other parameters you need in place so that the other parent's time is not interfered with?
Steps for Parents with Long-Distance Custody Plans
Handling physical separation from the other parent can be difficult for your child. However, there are ways that you can minimize conflict and encourage a positive co-parenting relationship. The following are some action steps to help you create a long-distance custody plan that works for your family.
Make a schedule for alternative visits
Since physical visitation may be limited, try to make the most of other forms of communication. Set up a set time when the parent who lives further away can talk to your child. You may also want to create liberal communication methods for mail, email,  video, and social media communications. Simply by sharing funny memes or gifs, a parent can connect with a child in a meaningful way.
Plan the year
Don't be shortsighted. Consider how the entire year will work out. Even consider how the next year will work out. This full picture will give you a better idea about potential plans and problems that you will need to solve with your co-parent. Consider your family's traditions and how you can maintain them, even if you are far apart. For example, can you send gifts and watch your child open them on video? Can you make a recipe together but separately? Use your imagination to help fill in the special days when you can't be with your child.
Use calendars
Look ahead in your various calendars when creating your plan. Look at work obligations, extracurricular activities, school calendars, and any other obligations. You can even sync calendars with your ex to ease this process. This will give you a more accurate viewpoint to work out a reasonable plan with your co-parent.
Work with your ex
It is almost always better to work with your co-parent to create a long-distance plan than trying to force the court to make an order. If you can cooperate with your ex, you can work together to identify potential obstacles and solutions for them. Also, try to be flexible. Unforeseen circumstances may arise. When they do, try to think how you would want to be treated in that situation and let that feeling guide you.
Talk to Our NJ Custody Attorneys about Drafting or Modifying a Long-Distance Custody Plan
Our team of diligent child custody attorneys with local offices in Brick and Sea Girt can explain your legal rights and options in New Jersey if you are considering a long-distance custody plan with your child's other parent. We can work with you to create a parenting plan that works for your family, no matter how far away you will be living from your ex or how long your children will need to travel to spend dedicated time with both parents.
If you are going to maintain custody most of the time, you and your ex want to split the year into months or weeks that work best for you, or you will have visitation at specific points throughout the year, our lawyers have seen and assisted parents with all manifestations of long-distance custody, and we are here to tailor a plan that's right for you.
Our lawyers can also represent you in court if you need to formally modify your court order involving custody or challenge a request made by your children's other parent. No matter what the case may be, chances are we can help. Contact us at (732) 812-3102 for a free consultation. We serve all areas in Ocean and Monmouth Counties, including Rumson, Sea Girt, Oakhurst, Neptune, Mantoloking, and Middletown.