Public Urination – Ordinance Violation, Disorderly Persons, and Lewdness Charges
Criminal Defense Attorneys Helping defend Clients Rights in Brick, Manasquan, Spring Lake, Toms River and across Monmouth and Ocean Counties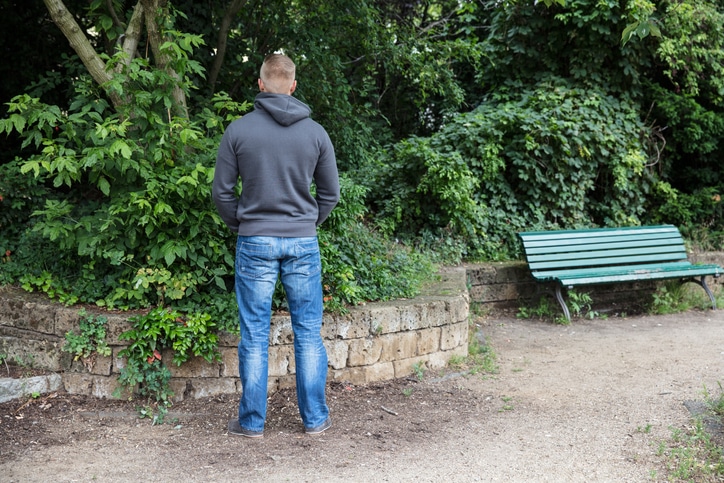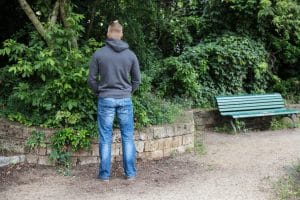 As the weekend approached, you and your friends made plans to go out, kick back, and have a few drinks.  What you did not plan on, however, is getting into trouble for public urination.  There is no excellent way to say it: if you have to use the restroom but everything is closed and there is nothing available, you make the only choice you can, and you try to urinate anywhere discreetly you can, perhaps behind a car, in a parking lot, or next to a building. What you may not realize is that this is considered "urinating in public."
Public urination is not a crime in New Jersey, in that there are no criminal statutes that specifically address urination.  However, some statutes identify general conduct under which public urination may be prosecuted.  Statutes are laws that define behavior that is prohibited and further identify said conduct as an indictable offense (commonly referred to as a felony) or a disorderly persons offense (also known as a misdemeanor). There are also town ordinances that may identify public urination as prohibited conduct. A municipal ordinance is not technically a crime or disorderly persons offense.
There´s a variety of options and opportunities to get a public urination charge dismissed. First of all, the police are very aware of this activity and keep an eye out for it. He might note as evidence that he smelled or saw urine, but that may not be proof if the officer did not see the person doing it. Perhaps the individual was just turning his back to the public sidewalk while he fixed a broken zipper. And there are no DNA samples being offered as evidence. Despite the circumstances, you need an experienced attorney like Peter Bronzino on your corner to properly file the case. Call him at (732) 812-3102 to chat with him about your specific situation.
Violation of an ordinance for public urination
For example, in Belmar, New Jersey, if you are caught urinating in public, you will receive a ticket or summons to go to municipal court on a specific date to answer to the complaint.  A review of the ticket may reveal that you have been given a citation for a violation of the town ordinance prohibiting urinating in public.  In Belmar, urinating in public will cost you $350 as well as court costs and fees, but it will not result in a criminal conviction for a disorderly person offense on your record.  A violation of this ordinance will not necessarily impact your employability or college career.  In some circumstances, the attorney representing you will be seeking a town ordinance to resolve your matter as opposed to having the resolution involve a plea for a crime or disorderly persons offense.
Urination – Disorderly Conduct
In many towns and localities, there is no ordinance specifically addressing public urination.  The police officer may instead decide to charge you with something such as disorderly conduct.  Disorderly conduct can be defined as an act that causes public inconvenience or alarm.  This charge is not a felony but is instead a petty disorderly persons offense. If convicted of any such offense, you could face up to thirty (30) days in the county jail, placed on probation, face up to $500 in discretionary fines, and pay mandatory penalties totaling $125 as well as court costs and fees.  Sadly, a petty disorderly person offense will show up on your criminal history despite the fact that it is not an indictable offense.
Public Urination – Lewdness
Lewdness is another offense that is often charged when no town ordinance makes it unlawful to urinate in public.  The danger of a lewdness charge is that it can be a felony, as well as a disorderly person offense.  Many factors play into why a particular course of conduct was charged a certain way.  For instance, maybe the police officer involved had been working for ten hours down the shore, on the boardwalk. He may have just grown tired of dealing with drunken people and decided to make an example of you by charging you with the fourth-degree crime of lewdness.
If you had the misfortune of being charged with lewdness, in the fourth degree, you would have to go to criminal court in the Superior Court in the county in which the alleged offense occurred. The State will try to prove that you exposed yourself for the purpose of sexual gratification in public and that you could have reasonably expected to be seen by someone under the age of 13.  This is unlikely to be true as you just needed somewhere to go to the bathroom and had no other option.  However, the state may try to bully you into a plea that is contrary to your interests.  Our attorneys can help prevent this from happening and will assist in achieving the right result for the conduct that occurred.
Felonies or indictable offenses are, at a maximum, punishable by a term in state prison.  In the case of fourth-degree lewdness, a person can spend as much as eighteen months in state prison or as little as probation or county jail time. A felony will show up on your criminal history, thwart employment, and possibly impact your college success or access to student loans.
If you have been charged with an offense involving public urination, contact our office today to schedule a consultation.
Contact a Monmouth Criminal Defense Attorney
Bronzino Law Firm is experienced in handling these types of cases. Our goal is to protect your rights and provide the best defense possible for your situation. If you have been charged with public urination, it might be a very easy situation to handle. However, it can become something bigger because you weren't adequately represented. Our attorneys will evaluate your case and help avoid negative consequences that the charges may have on your future.
Contact  Monmouth criminal defense attorney Peter Bronzino before you speak with law enforcement in order to preserve your rights. Reach us at (732) 812-3102 or visit our website.