Tag:
What aspects need to be addressed when crafting an enforceable Pre-nuptial agreement?
Premarital Agreement Attorneys in Ocean and Monmouth County
Serving Clients in towns including Asbury Park, Wall, Toms River, Brick, Sea Girt, Manasquan, Neptune, Spring Lake, Brielle, and more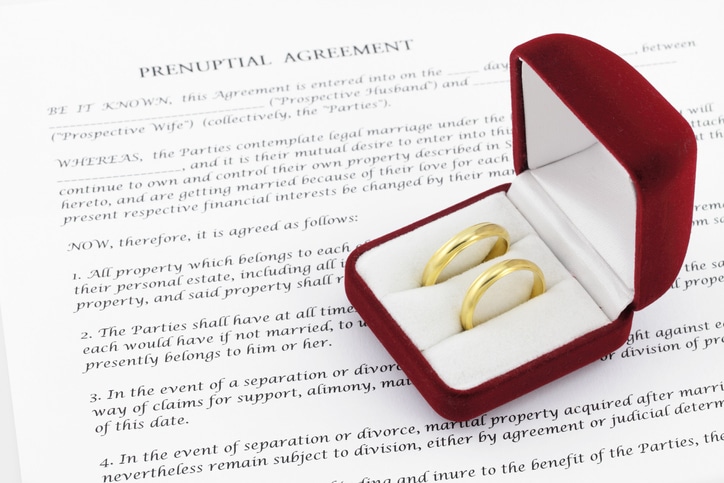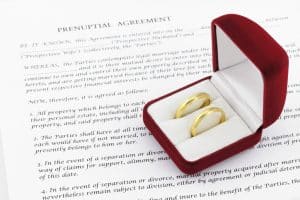 Before a couple marries, they have the option of signing a premarital agreement, which is a written contract that explains each party's rights and obligations in the marriage. The year 1988 saw several states, including New Jersey, pass the Uniform Premarital Agreement Act for the purpose of governing the laws of Prenuptial Agreements (also known as "prenups"). Since that time the number of prenups drafted has increased at a steady rate.
However, there are many pitfalls that many couples fall victim to when it comes to prenuptial agreements.  It is critical that before anyone enters into any prenuptial agreement that they have good experienced legal counsel.  This will go a long way to assuring that the agreement represents your needs and what you want. It will also make sure that the agreement is enforceable.
In short, a prenup is an agreement between potential spouses made in consideration of marriage and effective upon the marriage itself. The subject matters that are addressed in a prenup vary from agreement to agreement and are often as unique as every marriage.  However, commonly the agreement will include provisions for division of property as well as child/spousal support in the event of a divorce. The purpose of a prenup is to ensure that whatever assets you enter the marriage with you also leave the marriage with as well as avoiding the problems that a messy and contentious divorce can cause.
What aspects need to be addressed when crafting an enforceable Pre-nuptial agreement?
Any legal and enforceable prenuptial agreement must be documented in writing. It is common for couples to have verbal agreements about what should happen in the event of divorce with properties, child custody, and spousal support. However, if the terms and conditions of the prenup are only verbally agreed on, they are considered invalid.
In a written and enforceable pre-nuptial agreement, a statement of each spouse's assets must be attached prior to the marriage to ensure that those assets remain with the respective spouse. Another required formality is that both spouses must sign the agreement. If the agreement is not signed in by each spouse, it is considered invalid and unenforceable. It is highly advised to have a New Jersey family law attorney guide you in the crafting of the agreement. The qualified and experienced attorney will know that the agreement should represent all of the following:
The rights and obligations of each of the parties with regards to any of the property of either or both of them whenever and wherever acquired or located;
The right to buy, sell, use, transfer, exchange, abandon, lease, consume, expend, assign, create a security in, mortgage, encumber, dispose of, or otherwise manage and control property
The division of property in the event of separation, marital dissolution, death or the occurrence or nonoccurrence of any other event
Spousal support modifications or eliminations
The crafting of a will, trust, or other arrangement needed to carry out the provisions of the agreement
Ownership rights in and disposition of the death benefit from any life insurance policies
The laws governing the construction of the agreement
Any other matters, including personal rights and obligations that are not in violation of public policy
Frequently asked questions about pre-nuptial agreements in New Jersey
When entering any legal contract it is common to have questions about the nature and effects of the contract. The most common questions associated with a pre-nuptial contract are as follows:
Will entering into a premarital agreement affect the right of child support?
If you and your spouse agree to enter into a prenup, the agreement will not adversely affect the right of child support in the event that you file for a divorce.
When does the premarital agreement take effect?
A premarital agreement becomes effective the moment that you and your spouse are legally married.
Can changes be made to our premarital agreement once we are married?
It is possible to amend your prenup once you and your spouse are lawfully married. However, it is important to note that should you choose to make any changes, all changes must be recorded in writing. Furthermore, each party must sign the amended agreement, acknowledging any and all new additions to the asset list or initial provisions.
Uniform Premarital Agreement Act: Section 38
When is a premarital agreement unenforceable?
According to section 38 of the Uniform Premarital Agreement Act, a prenuptial agreement is unenforceable if one party in the contract can prove the following:
The party executed the agreement unwillingly or under duress.
The agreement was unjust at the time the enforcement was sought.
That party, before the agreement, took effect.
Was not provided with full and fair disclosure of the earnings, property and financial obligations of the other party.
Did not, in writing, voluntarily and expressly waive any right to disclosure of the property or financial obligations of the other party beyond the disclosure that was provided.
Did not have, or reasonably could not have had, sufficient knowledge of the property or financial obligations of the other party.
Did not consult with independent legal counsel or did not voluntarily and expressly waive, in writing, the opportunity to consult with independent legal counsel.
Moreover, if the marriage is found to be fraudulent or void for some other reason (I.e. one party was already married), the prenup agreement is only enforceable to the extent necessary to avoid what the court may find to be an unjust outcome.
It is important to remember that with prenups, as with any legal contract, effective representation at the crafting of the contract is a critical aspect of how fair it will be and how well it represents your individual needs and concerns going forward.
Contact a Toms River Prenuptial Agreement Attorney Today
While having agreements such as a prenuptial in place before a marriage occurs offers numerous benefits, creating and finalizing the contract can be a sensitive and delicate process. Our prenup lawyers are well aware of the nature of these situations and the need for discretion.
At Peter J. Bronzino we are committed to helping you produce an agreement that not only protects each parties' interests and assets but one that mutually agreeable. Call (732) 812-3102 to schedule your consultation!